Watsh Rajneesh's Homepage
About Me
7.5+ years of IT experience. Worked in NMS/EMS development with programming expertise in 'C', 'Java', and 'C++' and dynamic languages like PHP. I am proficient in the domain area of SNMP based Network Management Systems development and have worked on developing EMS/NMS systems and SNMP Agents using several of the renowned tools like HP Open View's NNM, Advent Net's WebNMS/Agent Toolkit and Wind Net SNMP 9.1 (erstwhile Envoy SNMP Agent toolkit on RTOS VxWorks 5.4).
I am also proficient in Java Enterprise Edition web/desktop applicaiton development (and I am Sun Certified in Java Programming (SCJP 5.0), developing Web Services (SCDJWS 1.4), Web Component Development (SCWCD 1.4) and Business Component Development (SCBCD 1.3)). I also keep learning about the latest developments in the Java world and blog about my learnings at my blog site.
I have been a distinction marks scorer throughout in my academic career.
Links you can use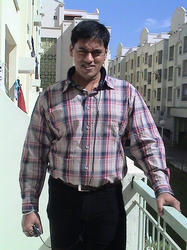 My interests
Above is my photo (dated 2005) at my residence in Bangalore, India. My area of interest is in distributed computing and network management. I am currently working at Maynard, MA, USA for a startup in cable broadband domain.